by: Diane Sweeney
Annual Celebrity Golf Tournament Raises $200,000 for Breast Cancer Charities
There is a golfing metric called the smash factor. When golfers improve their smash factor, they improve the quality of their shot.
Mid Penn Bank, headquartered in Millersburg, PA, seems to have found their smash factor for raising funds for local and national breast cancer organizations.
What started as a golf outing for customers in 2015 has turned into the premier annual charity golf tournament in Central PA. One that grows in magnitude, and fundraising, each year.
"When I agreed to organize the first golf outing," recalls Rory Ritrievi, President and CEO, "I said it couldn't just be about having fun. It had to also raise money for a good cause."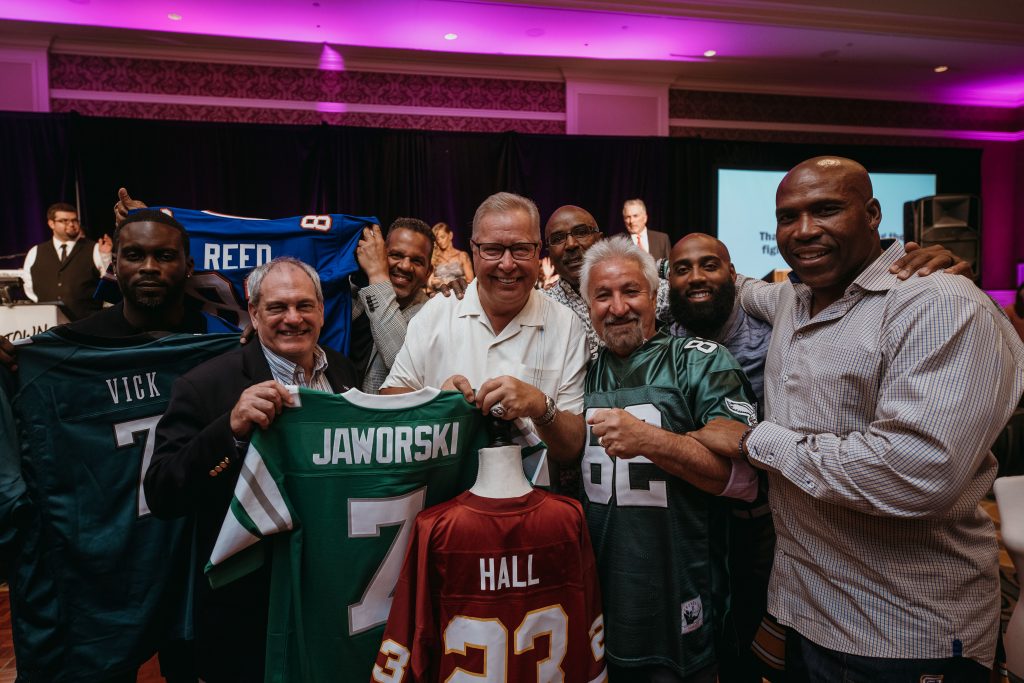 Supporting good causes is what Mid Penn Bank, founded as Millersburg Trust Company in 1868, has been doing for 151 years. They have remained committed to serving the local communities in which they operate, even as their footprint expands. They currently have 38 locations in 12 counties throughout Pennsylvania.
In August 2019, they were ranked 101 in American Banker magazine's "Top 200 Mid-Tier Banks" in the country. Th e bank is currently $2.2 billion in asset size.
After deciding to make the golf outing a charitable fundraising event, the only big remaining questions were: for what cause and for which organizations?
Deciding to raise funds to contribute to breast cancer charities was a natural fi t for Mid Penn Bank. Over 41,000 American women lose a battle to breast cancer each year. The majority of Mid Penn's employees are female, and as Ritrievi is known to say, "Just about every one of us has been affected by it either directly or indirectly."
Over the five years since they started, the primary beneficiary of their fundraising efforts has been the Pennsylvania Breast Cancer Coalition, an organization that supports PA women who already have breast cancer. The Coalition is a statewide nonprofit designed to extend public awareness of breast cancer and encourage increased public and private funding for research, legislative advocacy, and high-quality screening, diagnosis, and treatment. Th is year, funds were also given to the Breast Cancer Research Foundation, an organization that contributes over $65 million annually to researchers trying to find a cure.
The first year the Pennsylvania Breast Cancer Coalition was the recipient, $25,000 was raised during the golf outing held at the Hershey Country Club, in Hershey, PA. The success of the event inspired Rory to vow to double the amount the following year.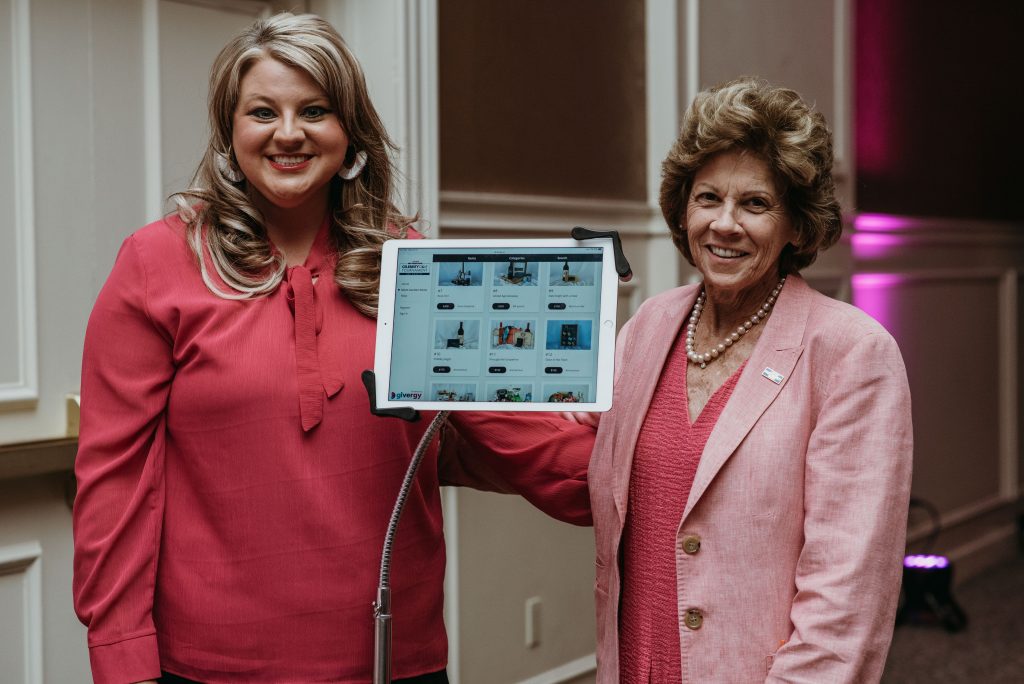 The second year, as they added pieces and another day to the event. $50,000 was raised. Promise kept. And another promise was made to double it again.
Planning commenced for the 2018 event. Mid Penn Bank representatives connected with the NFL, known to be generous supporters for breast cancer causes.
Star players and celebrities came out for what was now named the Mid Penn Bank Celebrity Golf Tournament for Charity, and $100,000 was raised. Donations were split 60/40 between the PA Breast Cancer Coalition and the American Cancer Society's Breast Cancer Research Division.
Mid Penn Bank had found their smash factor. Participation, celebrity, and support. Combined, this was the sweet spot to increase the amount donated to these causes.
"The ideas keep accelerating," said Ritrievi. "We found more celebrities, added more events and changed pricing. Somehow it all happened. But not without a lot of support from employees, the board, vendors and customers."
Rory attributes much of the success of the golf outings to the "Pink Shirt Crazies," his nickname for the Mid Penn Bank associates who work the events.
"It's amazing to watch. All of these employees, from all over the state, come to Hershey to support the event," says Ritrievi. "I see them in their pink shirts out on the course, in the lodge, everywhere. They make sure the celebrities and paying guests have what they need, thank them for being there, and make sure everyone has a good time. They make sure everything runs smoothly. Our staff knows every penny raised goes to our charities, and they work hard to make it happen."
Mid Penn's employees' passion for being community stewards does not go unnoticed. Rory shared that not only does Mid Penn Bank contribute to other local causes, but his employees have also contributed over $57,000 of their own funds and more than 3,000 hours of community service.
As a recipient of the Pink Ribbon Award at the Pennsylvania Breast Cancer Coalition's Annual Conference in October 2018, Rory shared the dais with a breast cancer research doctor. She told him how her work was funded by grants from the Breast Cancer Research Foundation, the highest rated breast cancer research organization in the U.S. Rory presented this new charity to the tournament committee, asked for their support of this cause, and vowed again to double the amount donated in 2019.
This past July, on two terribly hot and humid summer days, Mid Penn Bank hosted their fifth annual Celebrity Golf Tournament for Charity.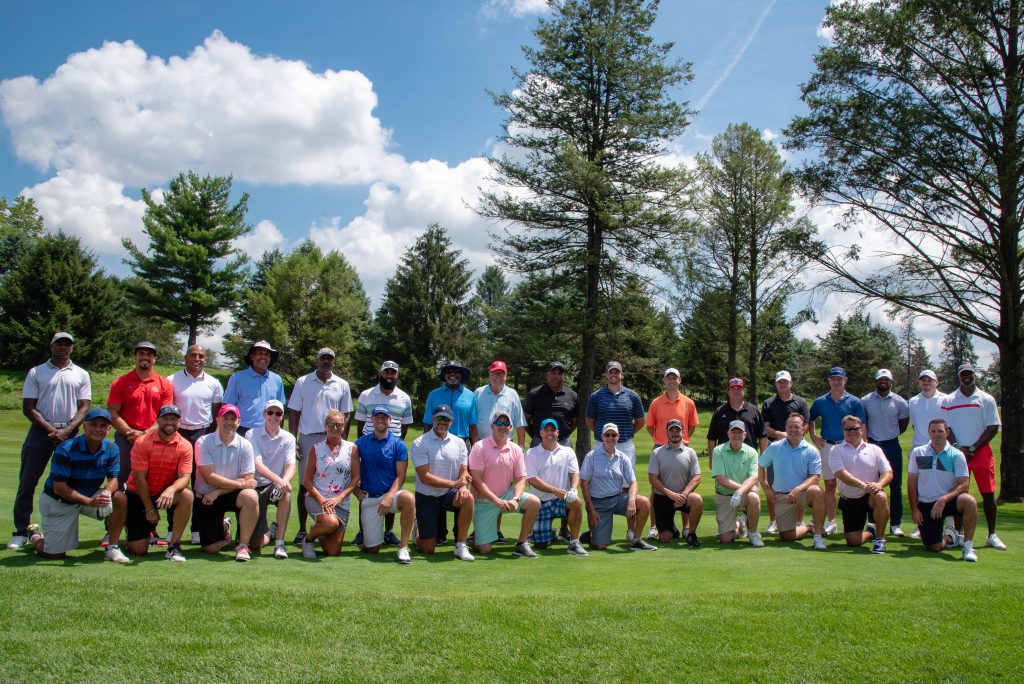 The event included a Celebrity Shoot-Out at Hershey Country Club on the afternoon of July 10, followed by a Pairings Party at The Hershey Lodge that evening.
The following day, the golf tournament hosted 160 golfers. Sports celebrity guests who were in attendance included NFL legends Ron Jaworski, Michael Vick, Jason Kelce, Mike Quick, Seth Joyner, Andre Reed, Merril Hoge and DeAngelo Hall, as well as stars from the NBA, NHL and MLB.
The Pairings Party, considered by some to be the highlight of the event with silent and live auctions, celebrity speakers, live music, food and drink, is where the amount raised is announced.
The goal of $200,000 was met. The bank presented $100,000 to the Pennsylvania Breast Cancer Coalition and $100,000 to the Breast Cancer Research Foundation.
"I had one celebrity tell me this was the best golf tournament he had ever been to," said Ritrievi. "That means a lot since these guys go to a lot of tournaments. Our employees outdid themselves. They are why this event works the way it does."
Pat Halpin-Murphy, President and Founder of the Pennsylvania Breast Cancer Coalition told us, "The leadership, passion and community commitment shown by Rory Ritrievi makes a significant impact for breast cancer survivors and their families. It is because of the incredible generosity on behalf of Mid Penn Bank that the PBCC is able to advocate for women dealing with this disease across the state when they need it most."
Ritrievi also believes an event of this type is as important to cities and towns in Central PA as it is to the causes they support. "To attract all of these celebrities to come to Hershey in mid-summer is incredible. It reflects the importance of doing things that make a difference and contributing to your community."
"My goal is to some year raise $1,000,000," said Rory. "It may take several more years to get there, but I believe we can do it."
Keep swinging, Mid Penn Bank – you've definitely found your smash factor!
---