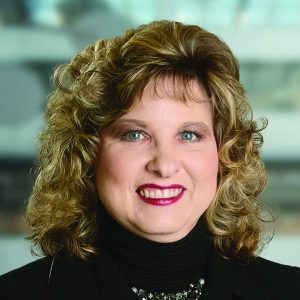 By The Pennsylvania Association of Community Bankers
The American Bankers Association has selected Lori A. Maley, CPA, President, CEO and Vice Chairman of Bank of Bird-in-Hand, to serve on ABA's Community Bankers Council.
"This appointment gives me the opportunity to represent Pennsylvania and advocate for the continued success of America's hometown banks."
Ms. Maley attended the ABA Community Bankers Council meeting in Washington on November 14-16.
Bankers had discussions on the impacts of mid-term elections results, legislative priorities for the new Congress, debit and credit card interchange, data aggregation, P2P payments liability, cannabis banking, ECORA, NSF fees, central bank digital currency and other deposit substitution threats, and bank ownership changes. Council members also had a chance to share ways rising rates and inflation have affected the business of banking and exchange ideas on operational and business best practices.
"Community banks play such an important role in our banking industry," Maley said. "This appointment gives me the opportunity to represent Pennsylvania and advocate for the continued success of America's hometown banks."
ABA's Community Bankers Council, which meets twice a year, is made up of approximately 100 bankers from across the country from institutions with generally less than $5 billion in assets. Members are appointed by the ABA chair.
Lori A. Maley, CPA, has served as Vice Chairman, President and Chief Executive Officer of Bank of Bird-in-Hand since
March 1, 2017. Prior to that, she was the Chief Financial Officer and Executive Officer, as well as Assistant Treasurer and Assistant Secretary of the Bank from its inception in 2013 until Feb. 28, 2017.
Maley's career has included employment in both large and small financial institutions, providing a breadth of experience with unique insights into an evolving financial market. Her journey began at Ernst & Young, LLP (E&Y), one of the "Big Eight" accounting firms, where she worked with clients in Pennsylvania and across the United States. Ms. Maley went on to serve as an executive in several companies, including Berks County Bank, Pennsylvania National Bank, Lehigh Coal and Navigation, Berkshire Bank, and Customers Bancorp, Inc. She has also participated in several advisory boards throughout her banking career, including the FDIC Advisory Committee on Community Banking, the Conference of State Bank Supervisors (CSBS) Advisory Board, and the Federal Reserve Bank of Philadelphia's Community Depository Institutions Advisory Council.
Ms. Maley holds a Bachelor of Science in Business Administration with a Concentration in Accounting from the Bloomsburg University of Pennsylvania and a master's degree in Finance from St. Joseph University in Philadelphia. She is a Certified Public Accountant. Committed to sharing her expertise with others, she has taught at several schools, including Kutztown University, Pennsylvania State University, Albright College, and Muhlenberg College. She resides in Schuylkill Haven, PA, with her husband, and two sons.
About Bank of Bird-in-Hand
With a mission to provide quality banking services with integrity in the markets they serve, Bank of Bird-in-Hand opened its doors in December 2013 in the heart of Lancaster County's Plain Community, in the village of Bird-in-Hand. At that time, the Bank was the first bank in the United States to gain a charter since 2010 and remains the only bank in Pennsylvania to open since 2008. Since then, Bank of Bird-in-Hand has grown to over $1 Billion in assets as of Sept. 30, 2022, with six brick-and-mortar branches and four mobile branches, serving Lancaster, southern Chester, northern Dauphin, and Lebanon counties in Pennsylvania.
For more information about the Bank, please visit bihbank.com. Member FDIC. Equal Housing Lender.