by: Diane Sweeney
With the Stone Mountain ridge to the north and the Jacks Mountain ridge to the south, the Big Valley area of central Pennsylvania boasts enormous views. Even its formal name, Kishacoquillas Valley, is big.
MCS Bank is big here too. The community bank has been serving the communities in Mifflin, Huntingdon, and Snyder counties for over 95 years. Their five branches located throughout the valley are convenient to the primarily Amish and Mennonite populations that live, work, and farm here.
MCS Bank prides itself on being a mutual savings bank where "neighbors help neighbors." With a mission that stays focused on "making contributions of both human and financial resources to civic causes."
"Our customers are our neighbors – our town's small business owners," shares Andrew LeGuen, AVP and Branch Manager at Allensville and Belleville. "They are farmers, furniture makers and local retailers."
While MCS has gone digital with the rest of the banking world – including online banking, mobile app, and live chat – their offices accommodate the needs of their local customers. Even to having hitching posts in their parking lots!
Randy Miller, Commercial Loan Officer says, "We are a throwback to what banking used to be. We do a large lobby business. We sit down with our customer. We talk about accounts or how life in general is going. Our customers like to work with someone who knows them. Someone they can trust."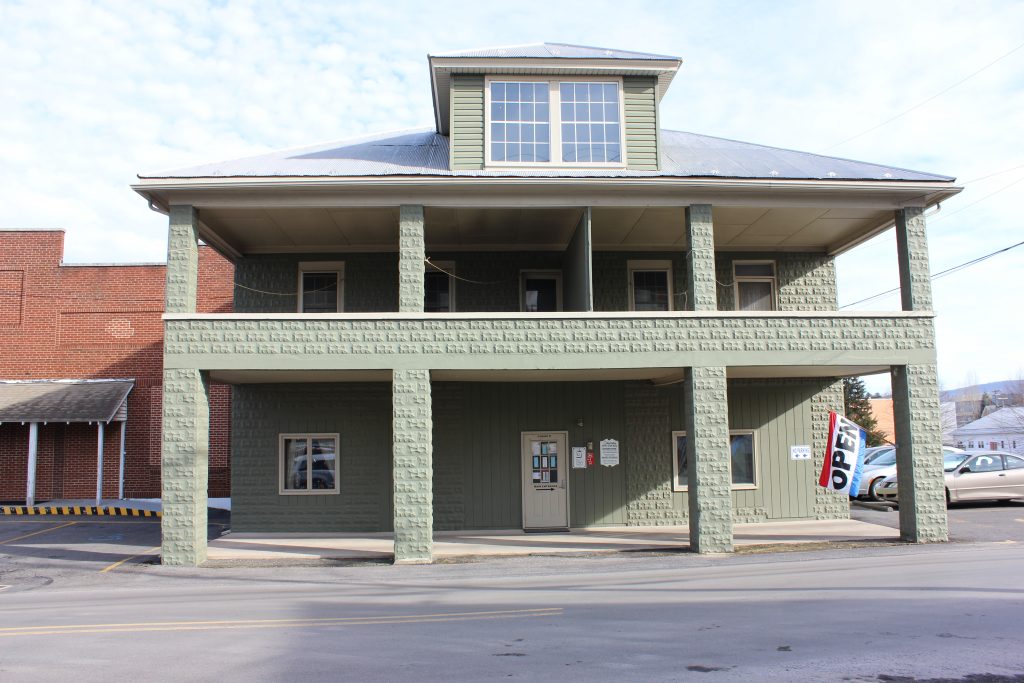 It is that earned trust and confidence that helped the board members of Big Valley Thrift and Gift Shop decide to partner with MCS Bank for a new store building project in 2018.
Big Valley Thrift & Gift Shop is a non-profit outreach of the Mennonite Central Committee (MCC). With a network of over 100 MCC thrift shops in North America, profits go to support local and global relief, development, and peace projects of the MCC. Volunteers from the Mennonite community are the day to day operators of the stores.
Along with the popular auctions and flea markets held on Wednesdays and Saturdays in Belleville, Big Valley Thrift & Gift is a destination stop for a lot of people from Central Pennsylvania. The wide variety of clean, creatively displayed items draws a steady stream of business. The store, however, had outgrown its current location. The parking lot is small and has low visibility along Main Street.
In 2018, the board of the thrift shop saw an opportunity to move to a larger location a mile up the road. Building a new store adjacent to a popular supermarket would provide them with more room for their inventory, greater visibility, and more traffic flow.
According to Leon Miller, Treasurer of the board at Big Valley Thrift & Gift Shop, "We reached out to two local banks and a local credit union. We wanted to keep it local to work with people who knew our community."
Ultimately, they chose MCS Bank, says Leon Miller, "Because what they had to offer was the best for Big Valley Thrift & Gift."
MCS met with the board members several times to get a good understanding of where they had been, where they were currently, and their vision for the future.
"We were committed from the beginning," says Randy Miller. "We wanted this to be a true partnership. We had an opportunity to advise on this project, as well as, finance it. So, we listened carefully. We embraced their vision. We told them what they could do, not what they couldn't do. They seemed impressed with the amount of time and attention we gave them. But that is who we are."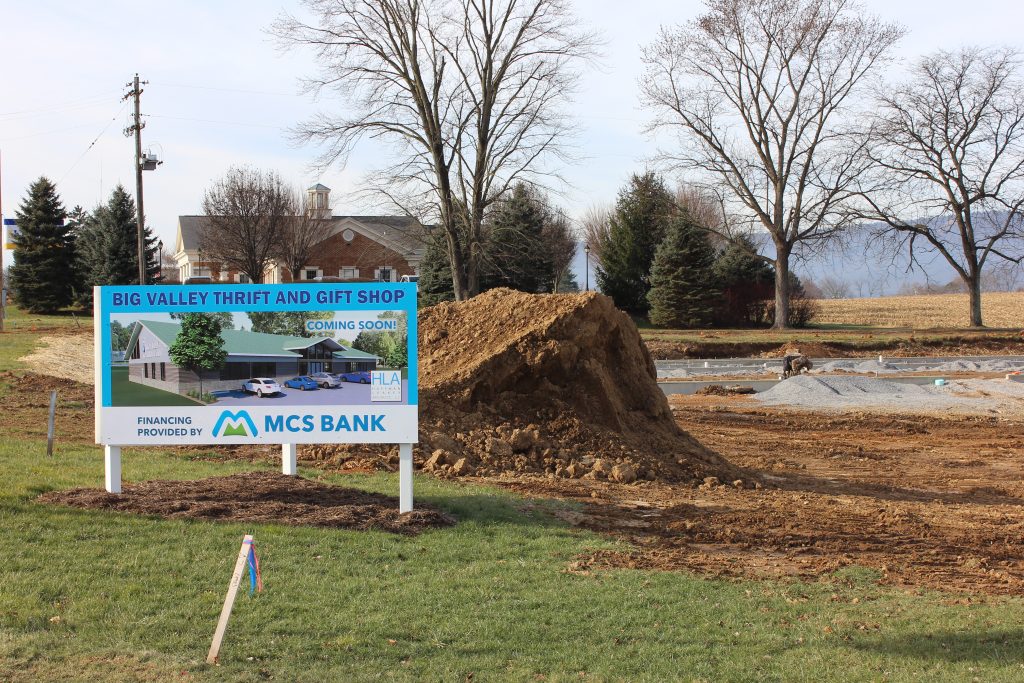 In addition to the higher visibility along Route 655, the new store will have more floor space and modern point of sales systems.
"We saw how the volunteers pour their hearts into taking care of the store. There is personal pride in taking care of donated items, cleaning, labeling, and arranging them for sale," Miller shares. "We wanted to help them build a store they could continue to be proud of."
While the heavy rains of 2018 delayed ground breaking from spring until later in the summer, progress has been made. In December footers were poured and walls started going up. Expectation is that the store will open in Spring 2019.
"MCS helped us to solidify our vision," shares Leon Miller. "We are very excited to be working with them and are happy with how the project is coming together."
For MCS it is not only a business deal, it's about helping to build the community.
"Most rural areas are underserved," says LeGuen. "The ability to draw people to our community, have a good experience, and spend money is important to sustain our local businesses. And hopefully they will spread the word!"
Randy Miller sees the partnership with Big Valley Thrift & Gift Shop as a benefit to everyone. From local to global, "everyone wins."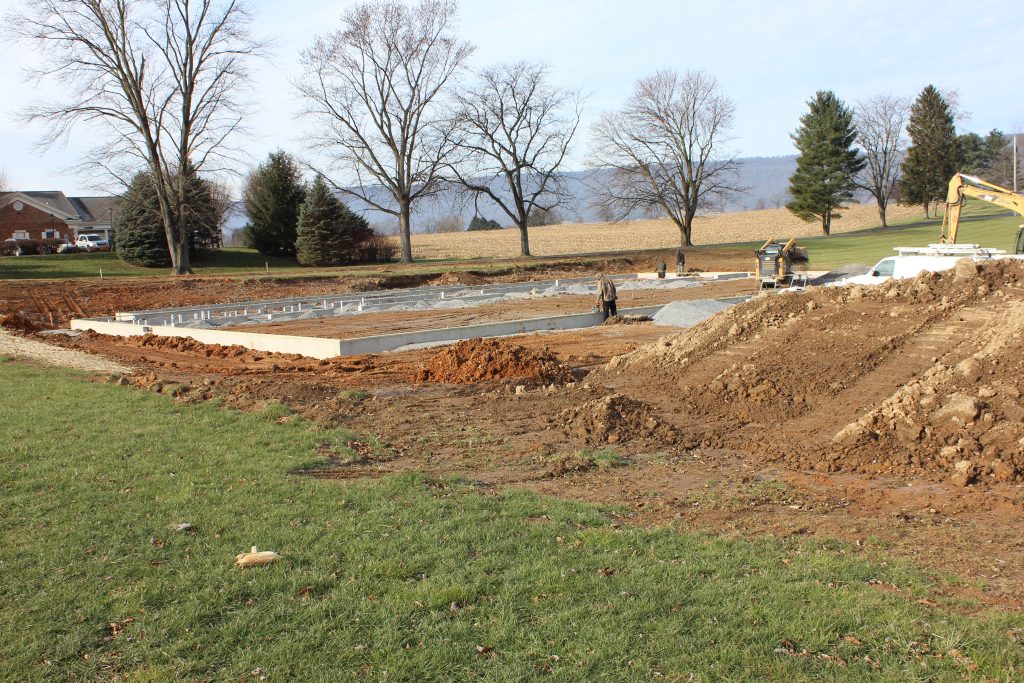 "MCC benefits on both a worldwide and a local level. What is happening here benefits those in need in other countries. Belleville's local economy gains work for general contractors, builders, electricians and tradesman. Our hometown vendors and small businesses see an increase in traffic and sales from the influx of workers during the building phase and visitors when the store opens."
Financing new building projects and lending to small businesses is not the only focus of MCS Bank. Their partnership and outreach go beyond the financing relationships with customers.
MCS Bank is a co-sponsor of the Belleville Civic Club Blood Drive. For nine years, MCS Bank has been the sponsor of the Annual Walk for Warmth held at Kish Park in Lewiston. Partnering with the United Way of Mifflin-Juanita and Mifflin-Juanita Human Service the walk is typically held on a very, very cold Saturday in early February.
Proceeds from the walk benefit the Mifflin-Juanita Energy Bank, providing heating assistance to local families who do not qualify for the Low Energy Income Home Energy Assistance program.
Nearly $67,000 has been raised since 2010, making sure no one is left cold during the winter months.
"It is a great cause," says LeGuen. "Being able to sponsor an event that brings comfort to so many is an honor."
Neighbors helping neighbors. Contributing human and financial resources to civic causes. All happening in the Big Valley in the heart of Pennsylvania.
"We may be a small town bank," says Randy Miller. "But we don't have any small customers."
Now that's an enormous view!