By: Diane Sweeney
When most of your customer base doesn't have electricity or a landline phone in their home, you have to approach mobile banking a little differently.
In today's culture when you say mobile banking you think of apps for smart phones and on-line computer access. Most bankers have spent the better part of the last decade developing technology and products to make it easy for their customers to bank from home or on the go.
The Bank of Bird in Hand (BBIH), located in the heart of Lancaster County, however, serves a community where banking technology is not a major focus.
Opened in 2013 as the first bank to be chartered in the United States after the Great Recession, and still the only new bank to open in Pennsylvania since 2008, BBIH is bringing mobile banking of a different type to their primarily Amish customer base.
"As soon as we opened our doors in Bird-In-Hand we were getting calls asking when we were opening a branch in the southern part of the county," recalls Lori Maley, President and CEO. "Customers were telling us they would build a branch office for us near them."
It quickly became clear this agricultural community wanted the services the Bank of Bird-In-Hand offered. But the need was greater than the bank's ability to build new branches. What was needed was an efficient and cost-effective means of delivery of banking services.
So instead of making their customers wait for branches to be built – BBIH brought the bank to the customer.
A little over 31,000 Amish live in Lancaster County. They drive horse and buggies or are driven by "English" to their jobs and stores. If they don't own a farm, they are likely a tradesperson – many with their own business.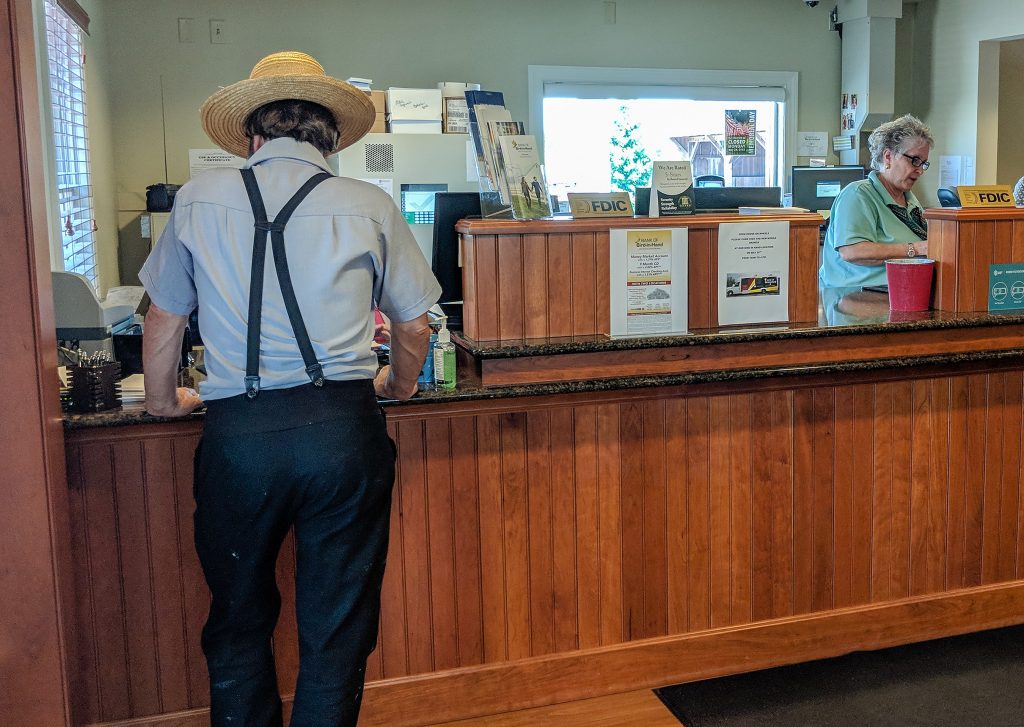 According to Lorilee Craker, author of "Money Secrets of the Amish", saving nearly 20% of their income is not an uncommon habit of the Amish and many are "absolutely phobic" toward debt. When the Amish do take out a loan, most often for farmland or to open a business, they view it as a moral obligation to pay it back in a timely way.
The Amish are a community with a deeply ingrained sense of loyalty to people they know and trust. Building relationships and extending generosity to others is at the core of their culture.
The banking needs of the Amish are simple. They need a secure place to deposit money and someone trustworthy to borrow from. Most do not need credit cards, auto loans, IRA's, or other investment opportunities that the large banks might offer.
Amish are not the only customers at BBIH, but they make up more than 50% of the bank's deposits and loans. Many are also shareholders in the Bank. It is not unusual to see a family in their horse and buggy trotting up to the drive-thru at the Bird-In-Hand branch or at the Intercourse branch to make a deposit or withdrawal.
"A lot of banks don't think about the culture in which they reside", says Maley. "Bigger banks make it difficult to apply for loans or to even make a deposit. We understand the mindset of the Amish. From the beginning, we knew we would offer what they needed, not what we thought they needed."
It also helped to have Bill O'Brien, Chief Lending Officer, as part of the startup team. Well established in the banking community of Lancaster County, Bill is known to the Amish as the "Gelt Chappie" or "money man" in Pennsylvania Dutch.
When BBIH opened, O'Brien knew the customers, and the customers knew – and trusted – him. Many would just walk through the lobby of the new bank to sit down unannounced in his office to say hello and catch up. And O'Brien welcomed them.
In the first year, BBIH made $60 million in loans. "If there had been two of me, we could have done more," O'Brien told a reporter for the Wall Street Journal. The Amish knew who they entrusting their money to and were happy to open accounts and take out loans with BBIH.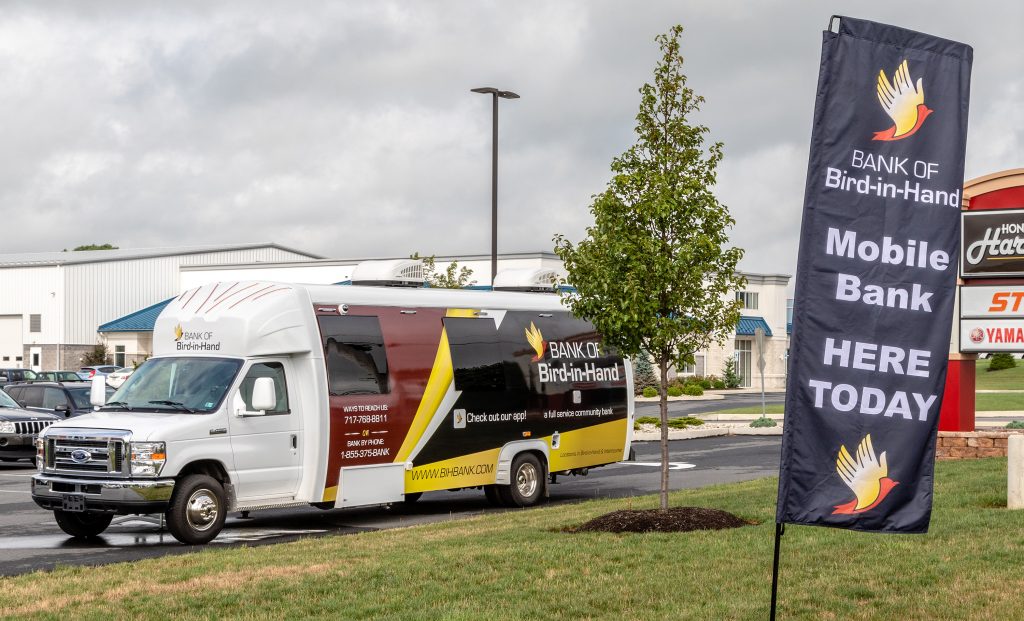 But there was still the need to reach more of the community.
The idea of mobile branch banking is not new. There are several banks and credit unions throughout the United States with mobile offices, but it is still rather unusual. Many are roaming ATM's for rural communities or a form of marketing at major events and community fairs.
BBIH's intent for their mobile branch was to provide the services their customer needed, where they needed it. The focus was not on marketing or sales, but rather deposits, withdrawals, and loans. They designed their mobile branch schedule around a farmer's schedule. The branch would meet the people on the road, where customers live and conduct business.
When approached with the idea of a mobile unit, the FDIC thought it was a unique idea and supported the efforts to establish the bank on wheels. Mobile units are considered a branch, so they are subject to all branch regulations. The FDIC and the Pennsylvania Department of Banking and Securities had to approve operations in each of the townships and boroughs where the mobile unit visits.
The 29-foot mobile branch was customized and designed by Mobile Facilities, LLC in Elkhart, IN at a cost of approximately $165,000. It took five months to complete, including the wrapping which was completed by a local firm.
The mobile branch is equipped with everything you would find in a brick and mortar facility. On the passenger side, there is a glass window for teller transactions, complete with a drive-up drawer location for money and document exchange. An ATM is located on the rear of the same side. It slides in and out on a track, so it is covered and secured while driving.
Step inside the mobile unit and you will find two desks for bank representatives who can handle any transaction, including opening of accounts. There is even a restroom for employees.
An armed security driver accompanies two to three representatives to each location. The mobile unit visits nine different locations and operates five days a week. On four of the days, it visits one location from 9 am to 12 pm and another from 1 pm to 4 pm. On Wednesdays the mobile branch is in one town from 9 am to 2 pm.
Locations were chosen with consideration for convenience for their customers. On Tuesdays, for instance, there is a well-attended hay sale in Kirkwood, PA. BBIH's mobile branch can be found in the milking equipment supplier's parking lot across the street during the hours of the hay sale.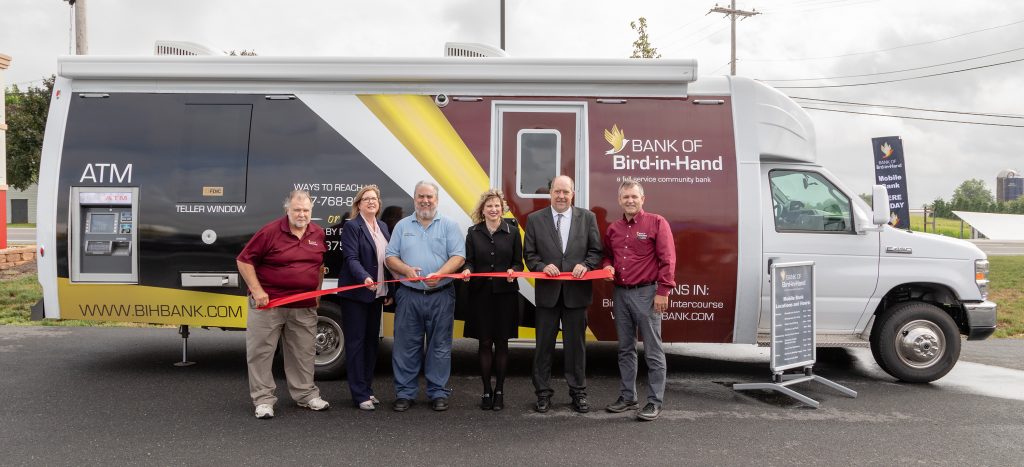 At the end of the day, the money trays are emptied, and the cash secured. The mobile unit is parked in a bus garage in Paradise, PA.
Overall, the roll out has been a success. BBIH has learned that in some areas there can be an issue with internet connection, so they are installing a different type of antenna. And they believe an awning over the ATM and teller window would bring an added level of comfort to their customers.
When the mobile branch hit the road on May 31, 2018, Darlene Fisher was riding along. Fisher had a longstanding reputation as a representative from another bank in Lancaster County, as well as with BBIH. Management knew when the customers saw Fisher in the mobile branch; her presence would assure them this mobile unit was there to serve them – and that recognition, trust and relationship matters.
The cost-effectiveness, flexibility and convenience to the customer of a mobile branch is proving to be a win for both the bank and their customers.
"Bank of Bird-In-Hand's mobile branch is a fine example of the essence of community banking", says Nick DiFrancesco, PACB President/CEO. "The Board and management recognized the culture in which they operate and adjusted their way of doing business to meet the needs of this farming and trade community."
Before the mobile branch started rolling through the roadways surrounding the farms and fields of Lancaster County, calls were coming in with invitations to put the mobile branch in the parking lot of their business. Most of the locations the mobile branch visits are in the parking lots of Amish owned businesses.
At their second annual picnic for customers and shareholders this past June, held in a field across from their main branch in Bird-In-Hand, 1,400 people attended to show their support and respect for this growing community bank. Alongside a long line of parked horse and buggies was the gasoline-powered mobile branch that had been designed to serve the owners of those animal-powered vehicles.
On July 30, 2018, BBIH announced a common stock offering slated to begin in the third quarter of 2018. In the press release, Kevin J. McClarigan, Chairman of the Board, noted that "the growth of the Bank since it opened in December 2013 has well exceeded our expectations. Additional capital will provide the Bank with the resources to build on that growth and plan for the long-term future of the Bank, including additional, yet currently unidentified, branch locations." He added, "the entire Board of Directors is very pleased and excited by the community's response to the opening of the Bank, the capital raised in 2016, and our unique business model. We are committed to our customers and residents of our community to build upon that success."
In the first week after the announcement, customers were walking into the branches asking how they could purchase stock. The community is as invested in BBIH, as BBIH is devoted to their community.
"This is still evolving", says Lori Maley. "We are still experimenting with our mobile branch and working on smoothing out some technical issues. We may change locations. We may adjust hours. The mobile branch is a tuning fork for us to determine where we could build brick and mortar branches in the future. Unquestionably, however, we are committed to cultivating relationships with the community we serve."