By Eric Kovac, PACB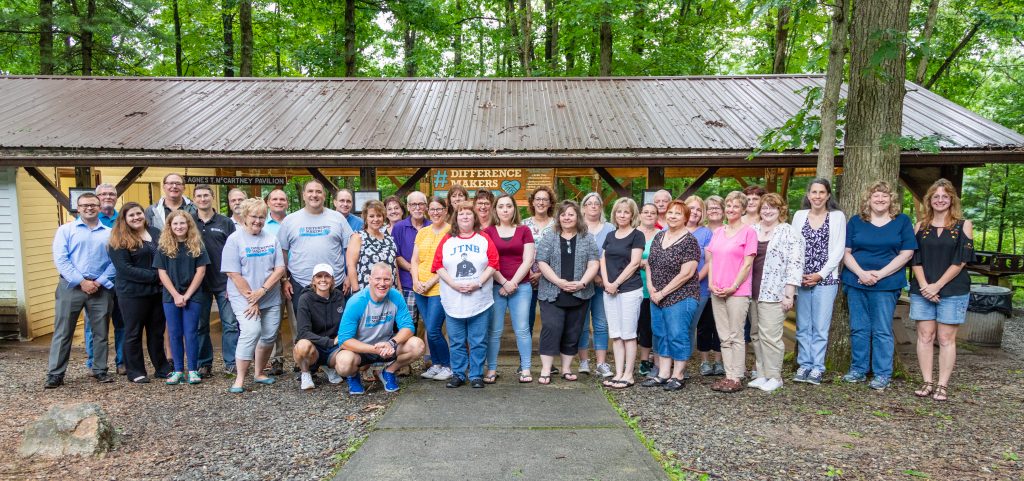 On Thursday, July 11, 2019, PACB traveled to Jim Thorpe for the fourth #DifferenceMakers picnic of the year. Jim Thorpe Neighborhood Bank graciously hosted the picnic in their backyard at Mauch Chunk Lake Park. Despite raining all day, PACB and JTNB decided to move forward with the picnic anyway. As picnic time approached, the skies cleared and the evening was full of great weather and camaraderie among attendees from JTNB, The Neffs National Bank and First Northern Bank & Trust Co.
PACB Chairman Troy Campbell shared his goal of praising community bank employees at each of the picnics, "What they do can seem very transactional, but they are making a difference in the life of a family, an individual or a small business."
As attendees gathered in The Agnes T. McCartney Pavilion, Jay Miller (JTNB) grilled up hotdogs and "Curve Burgers" while PACB and JTNB staff prepped the rest of the food, picnic table centerpieces, and the evening's cornhole tournament. As attendees feasted on picnic delicacies, Craig Zurn, President/CEO of Jim Thorpe Neighborhood Bank, praised his team for their dedication to the local community. He then opened the floor to his employees and guests in attendance from neighboring community banks to share their individual stories of what makes them #DifferenceMakers. We heard from Jay Miller, Amy Behrens, Lori Cinicola, Courtney Miller and Sally Smith – all employees at JTNB branches – as well as Kevin Schmidt, President/CEO of The Neffs National Bank and Leo Castagnera, Security Officer at First Northern Bank & Trust Co. The common thread throughout everyone's stories was the joy they feel by giving back to their communities and seeing the smiles on the faces of the people they serve.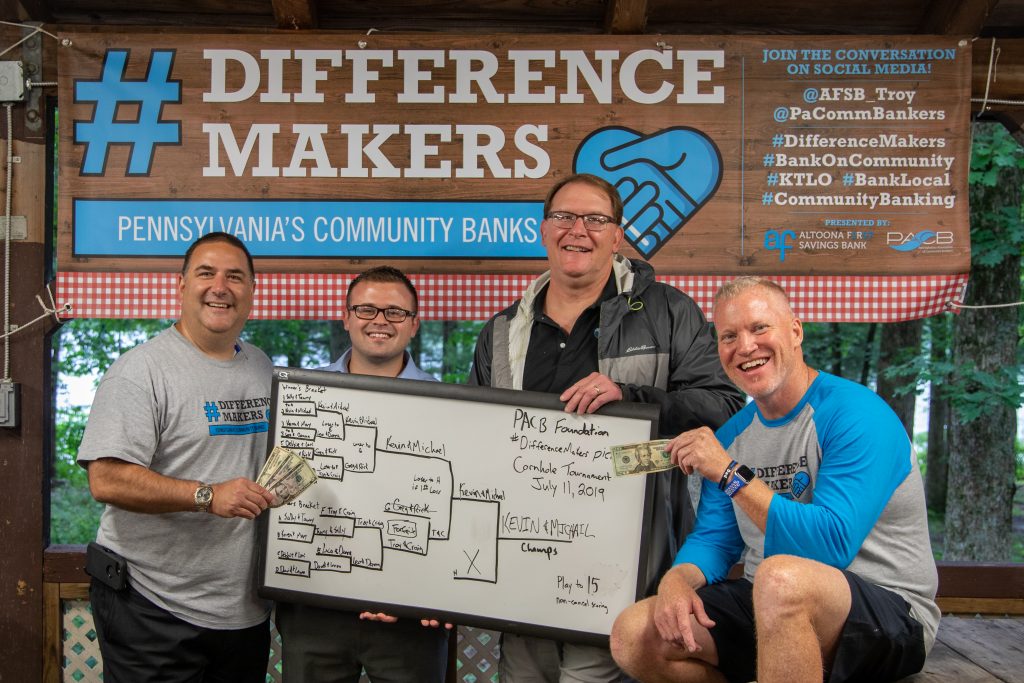 Once everyone was done with dinner, attendees moved out to the parking lot for the evening's cornhole tournament, which was held to benefit the PACB Foundation. Eight teams of employees from the three banks in attendance entered the double elimination tournament, but only one would leave with the title of Tournament Champions. The Neffs National Bank team of Kevin Schmidt and Michail Georevic and the JTNB team of Rick Kuhn and Greg Hartman looked to be early favorites, steamrolling all competition. In a surprising turn of events, the team of Rick & and Greg decided to forfeit before their semi-final match, giving the win to the team of Troy Campbell, PACB Chairman and President/CEO of Altoona First Savings Bank and Craig Zurn, President/CEO of Jim Thorpe Neighborhood Bank. With the finals handed to them, Troy and Craig came out swinging against the undefeated team of Kevin and Michail. Some early back-and-forth scoring made for an exciting match until Kevin and Michail re-found their groove and pulled ahead with no looking back. Congratulations to Kevin and Michail on their Tournament Championship!
Finally, in a true showing of sportsmanship, and embodying the spirit of being #DifferenceMakers, Kevin and Michail donated their winnings back to the PACB Foundation.
We would like to thank every #DifferenceMakers picnic attendee for everything that you do throughout your communities. You represent the spirit of community banking every day, and you are the reason that your communities continue to thrive. You truly are #DiffernenceMakers!
---
As PACB Chairman Troy Campbell prepares to pass the torch to Jon Conklin, we encourage you to stay tuned. There will be at least one more #DifferenceMakers picnic before this year's Annual Convention, and when we return Jon will be deeply involved as Chairman, as he tours Pennsylvania. He, too, would love to meet all 14,000 community bank employees in Pennsylvania, and he has some exciting networking events planned. If you are interested in hosting an event or would like more information on attending one of the events, please reach out to Jena Wolgemuth at jena@pacb.org.