By: Diane Sweeney
When The Board of Trade Building and Loan Association was founded, their mission statement was: "A financial institution created for the purpose of mutual helpfulness to citizens of the community in promoting thrift and helping its patrons to buy homes."
The Association is now known as Greenville Savings Bank. The bank's name has changed several times over 107 years, but the mission and purpose has remained the same. The tagline in their logo is "Your Hometown Financial Institution since 1911." Financing for 'homes' in Mercer and Lawrence County, Pennsylvania continues to be their focus.
According to FDIC data reported at www.bestcashcow.com , "Compared to other banks in Pennsylvania, Greenville Savings Bank has a significantly higher percent of 1-4 Family Residential Loans on its balance sheet, potentially indicating a specialty in that lending area."
The specialty is more reality than potential. Approximately 86% of Greenville Saving's loans are 1-4 Family Residential. A large volume of the loans are to Amish patrons residing in or nearby the towns in which the Bank is located.
Until 2002, Greenville Savings had only one branch. The current main branch building opened in 1954. It is still located on Main Street in Greenville, a short walk east of the Shenango River. The Bank's physical location to the core of town naturally creates a close connection to the people in this western Pennsylvania community.
Situated eighty miles north of Pittsburgh, Greenville was a mill and factory town in mid-century. Railroad-car manufacturing, bridge works, an automobile factory, and steelworks were the lifeblood of the community. Main Street and the town center were where people shopped, gathered, and socialized. Greenville Savings and their staff were a pillar in the community and an integral part of the activity in Greenville.
In the mid-1980's, the factories that had been the livelihood for Greenville residents began to close their doors. Greenville Savings Bank worked closely with their customers to avoid foreclosures. There was no cookie cutter, corporate procedure to follow in making lending decisions.
These people were their neighbors and friends. Officers and Trustees knew their personal stories. They could look at each person's circumstances and work to help them keep their homes. This is the core of what a community bank does – support the people who live and work in their town.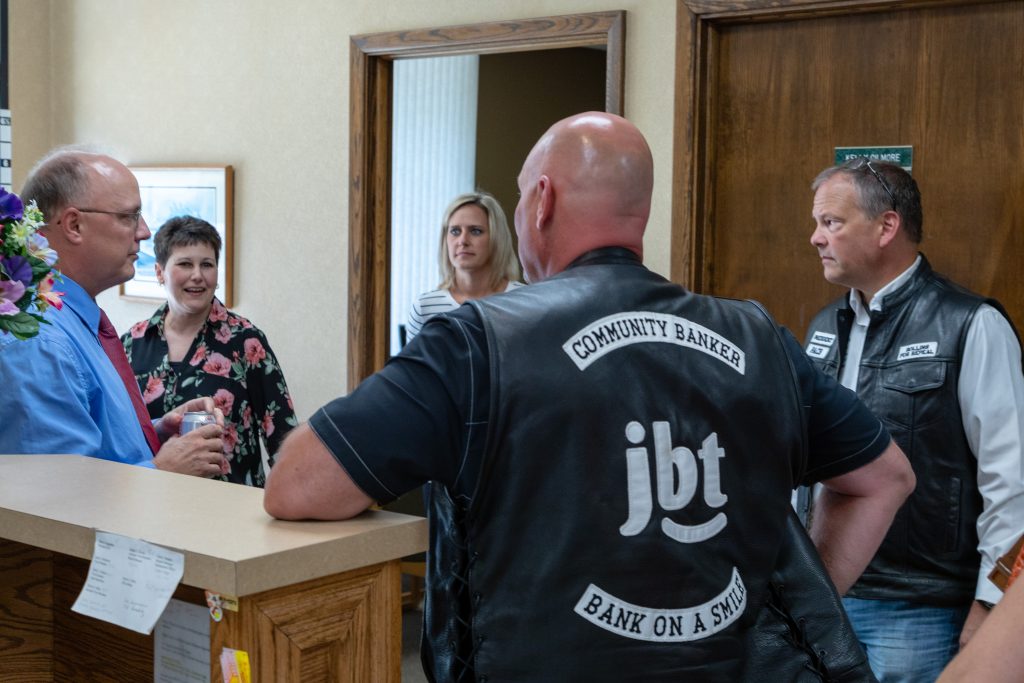 "We had one-on-one relationships with our customers then," said Jeffrey Blair, President/CEO. "And we continue to pride ourselves today on having those same types of relationships. We still greet our customers on a first name basis. We let them know they are important to our bank."
As the big banks started opening branches in the agricultural and expanding towns of Mercer County in the 1990's, Greenville Savings Trustees recognized an opportunity to expand and share the strengths of Greenville Savings Bank's type of community banking in these towns, too.
"We saw areas where the connection made with a community bank was missing," recalled Blair. "We identified Hermitage and New Castle as new locations for Greenville Savings."
Over the years, the Amish communities have embraced our banking style. For the Amish, money transactions are all about relationship and trust. Their needs are simple: deposits for their cash and loans for homes, farmland and small business. The Amish appreciate when they can walk into the bank and speak to the same person they spoke with last week. Satisfaction is high when decisions are made quickly by people whose hand they can shake.
Unlike large commercial banks, where there are processes and procedures that involve representatives not located at the branch where you bank, Greenville Savings offers personal relationship and support. This is especially important based on the unique lifestyle of the Amish population.
Fair lending laws, of course, prohibit a financial institution from making exceptions based on religion, race, color, national origin, sex, marital status, age or source of income. Everyone is to be treated the same.
But the Amish lifestyle is different. They live with little debt and few bills. Their homes are different. There is no electricity. Amish do not incur the same types of expenses the typical American has with car loans, cable services, phone bills, and more. Greenville Savings Bank recognized this difference and knew there had to be a way to accommodate for this unique way of living.
Greenville Savings Bank worked with the FDIC and requested approval for a special loan policy based on different criteria. With the FDIC's consent, loans to the Amish at Greenville Savings can be approved at higher debt to income ratios. Blair calls lending to the Amish 'safe loans'.
The Amish dislike debt and do their best to pay back their loans as quickly as possible. Loans are taken out only for farmland, housing, or to open a business. There is no such thing as a personal loan in the Amish community. In their view, it is a moral obligation to pay a loan back in a timely manner.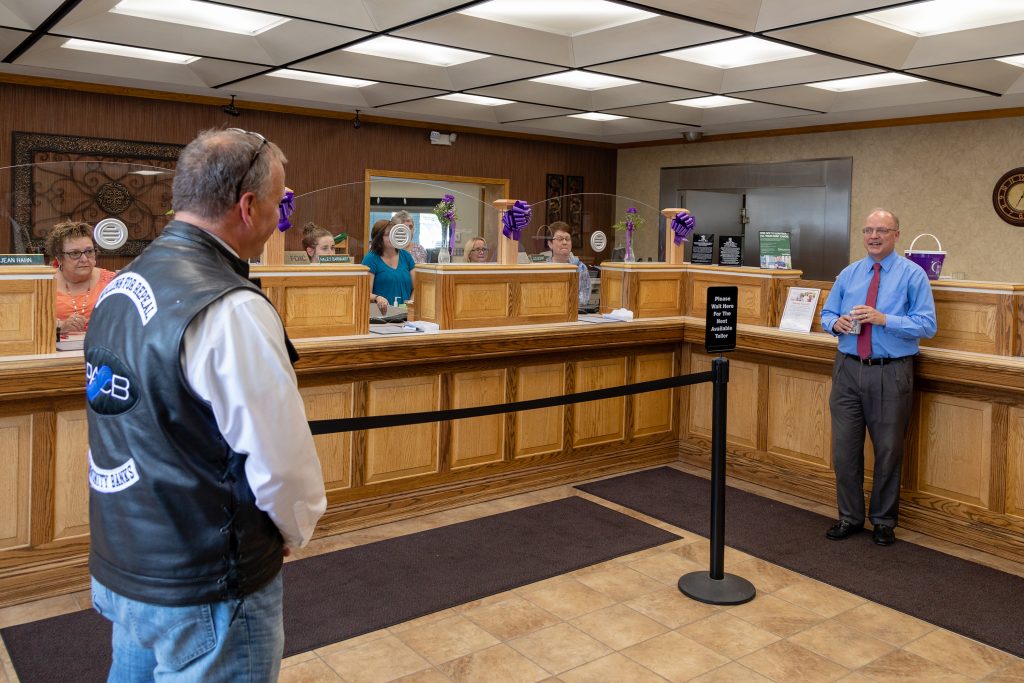 Greenville Savings Bank's efforts to secure a special loan policy for the Amish community spoke volumes, and they showed their appreciation with the best type of advertising Greenville Savings could ask for – word of mouth. But it wasn't only securing a special loan policy that made the Amish want to bank with Greenville Savings.
Just as they do with their "English" (Amish term for non-Amish) customers, Greenville Savings strengthens their relationship with the Amish by supporting, volunteering, and attending events.
"The Amish hold auctions to raise funds for medical bills," Blair shares. "We provide donations for the auction. Our employees volunteer to assist on auction day. Working together builds the relationship and trust that is vital to community banking."
Nick DiFrancesco, PACB President and CEO applauds Greenville Savings Bank for their efforts to find ways to work with their unique customer. "Community banks like Greenville Savings Bank are foundations of trust and service in small towns across Pennsylvania. Understanding we are people working with people is the basis for success of community banks, the residents, and entire towns."
Greenville Savings Bank, of course, doesn't focus only on the needs of their Amish population. They have expanded their services as needed to meet the demands of their modern-day customer. Those of us who couldn't live without electricity and technology.
In addition to branch services for deposits, loans, and savings products, they have a full line of digital ways to bank. Products and services include online and mobile banking, bill pay, and e-statements. And most recently they introduced Card Valet – an app used to monitor and control debit card transactions.
Employees are visible in and around Greenville as leaders, volunteers, and participants in civic, religious, and youth groups. Greenville Savings Bank supports these organizations with donations and time from their employees. Small businesses in town recognize the value of the connection and support Greenville Saving's work in giving back directly to the community.
Having been with Greenville Savings for 29 years, first as CFO & Compliance Officer, and now President/CEO, Jeff Blair has worked through economic turmoil and regulatory changes.
Reflecting on his years in the community banking industry, Blair cites the biggest challenge is the regulatory burden placed upon community banks in the last decade. Regulations put in place because of the problems larger banks created.
"Our customers are hurt because of additional, stringent guidelines," says Blair. "We can't do things we used to be able to for people in our community. We knew how to run our bank based on the individuals we were servicing. The rules hinder customer satisfaction."
Despite the extra effort, additional staff and newer regulations placed on banks, Greenville Savings Bank still supports the original mission of The Board of Trade Building and Loan Association, providing "mutual helpfulness to the citizens of the community."
The goal is to continue to find ways to keep banking simple for the community they serve. Providing great products and great service at low cost to their friends and neighbors is key.
In fact, the current mission statement of Greenville Savings directly addresses their goal to be different than the behemoths who compete for their business:
Greenville Savings Bank's mission is to, "create an alternative to the existing "big bank" environment by providing competitive interest rates on loans and deposits with a focus on friendly and personal service to customers."
The original founders of The Board of Trade Building and Loan Association would be proud their mission continues into the next century. Based on their current relationships and practices, it is likely Greenville Savings Bank will be Mercer and Lawrence County's 'hometown institution' for many more years to come.