By Tim Snyder 
Chairman, PACB
The Pennsylvania Association of Community Bankers is on the move. Quite literally. I have had the pleasure of traveling around the state with Kevin, visiting community banks and hearing about the great work you do.
Kevin and I had the pleasure of attending a Pittsburgh Penguins hockey game hosted by Dollar Bank. We had a great time, welcoming community bankers from the western region to Dollar Banks suite where Andy Hasley, Frank Buonomo, and Dollar Bank President/CEO Jim McQuade provided a comfortable setting to watch an exciting game that ended in overtime. We couldn't have asked for a better evening. The next morning, we met with Dollar Bank employees to talk about the importance of community banking, our legislative work, and the value of FirstPAC, the only political-action committee dedicated to community banking.
Our next stop was Franklin County for a visit with our friend Tim Henry, President/CEO of F&M Trust. We thanked Tim for his service on the PACB Board of Directors. Tim took the time to give us a tour of his new facility, reflecting on the history of his bank which has been serving the needs of the community since 1906. F&M Trust leverages that history to continue to innovate its offerings and to provide cutting-edge simplicity and accountability for all transactions.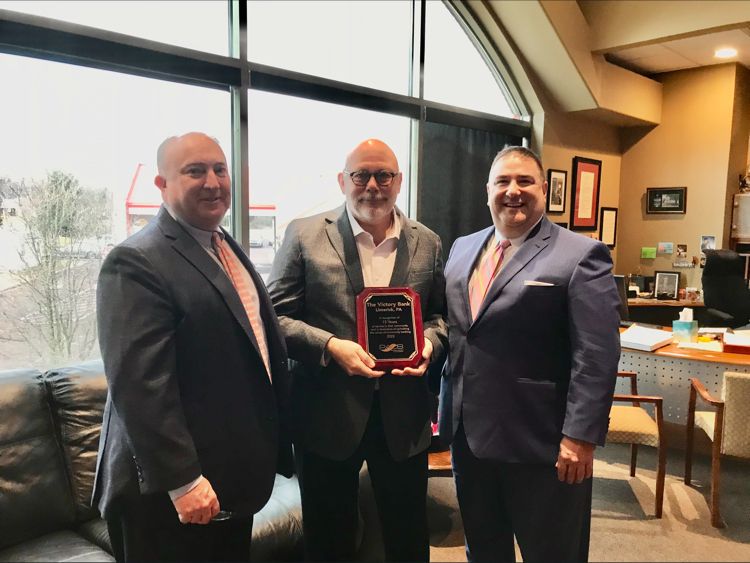 The Victory Bank, celebrating fifteen years of service in Montgomery County, was our next community bank visited. It is committed to working relentlessly to populate the bank with a team of better bankers. Leading that effort is the always-engaging and welcoming chairman and bank leader, Joseph Major. Kevin and I presented a plaque recognizing Joe and The Victory Bank on reaching this milestone.
It is a tremendous honor and privilege to be afforded the opportunity to visit members of PACB and meet with employees of these teams that deliver and make a difference in the lives of so many people each day. It is easy to be focused on the transaction but lose the perspective of the importance of community banking. What might seem insignificant to some, might create opportunities and change for others. You can feel that when you visit these community banks and listen to the stories of why we do what we do and how it has impacted so many.
But it can't stop there. We need to develop and cultivate future talent. We need to provide a path for success for those that want to invest the time and effort to achieve success. That is why PACB has created the All Access Educational Pass. With the All Access Educational Pass, your bank will receive a registration to each bundled program including Risk Management, Human Resources, Marketing, and others. This is a great way to provide members of your team the opportunity to grow and learn while supporting PACB.
Another exciting offering for 2023 is our partnership with the Barrett Graduate School of Banking. PACB members have access to this three-year program designed to develop the skills of the next generation of community bankers. This is one of the most important initiatives we as an industry face in the upcoming years. There is a lot of talk about the fight for talent, and it is a real challenge. We need to stop fighting for talent and, instead, provide a path to success so that we become an industry that young people embrace and recognize the opportunity to make a difference.
Our last stop—for now—was Ambler Savings Bank. I think we were in the neighborhood and decided to stop by. It is always fun to visit with Roger Zacharia, former PACB chair, to get his unique perspective on whatever the topic of the day happens to be. I also let Roger know how much I appreciate him using my wife's cousin in his most recent social media video post, talking about how she loves banking with Ambler Savings Bank. That's one less invitation to the Snyder Independence Day picnic.
Again, it is an honor to be your chairman, and I look forward to visiting with you at your bank. In the meantime, keep a lookout for Kevin and me traveling around in his GMC Acadia. You never know where we will show up.
–Tim